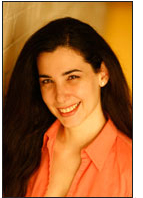 Knit Magic was founded by Karen Zila Hayes, a life coach, musician and multi-media artist. As a teacher, Karen has worked with children and adults for the last 15 years, helping them grow through music, visual arts and crafts.
In her work as a coach, Karen had always promoted the value of creative expression. However, it was only when she started teaching knitting that she began to see a different type of transformation occurring in her clients and students.  Intrigued by these results, and by the addictive bliss this activity was producing in her, she began researching knitting's therapeutic power.
Fascinated by the ever-mounting body of evidence supporting knitting's cognitive, social, emotional, and physical benefits, Karen was inspired to put a new spin on her own therapeutic work. The result is an innovative approach to healing, wellness and spiritual growth, all facilitated by the powerfully grounding effects of this amazing super-craft.
Today, Knit Magic offers ground-breaking techniques in the areas of creative empowerment, personal growth, stress-reduction, illness recovery, charity outreach, and smoking cessation.